10 Guiding Lights to Stay Productive While Working from Home for the First Time
This post was written by Jenn Strike with the input of fellow remote workers, Bethany Bell, Jennifer Ohlinger and Valeri Lea. 
Has working from home become your new normal in the midst of this COVID-19 global crisis? For some, this may be a welcome change (dogs everywhere rejoice), for others, this may be a little unknown and add to any feelings of unease.
Have no fear! If you find yourself navigating the world of working from home for the first time, or even if you're a seasoned WFH-er, let us shine some light on top ways to stay productive while working from home.
Here at QLC, we have several experts on how to work remotely, including Valeri Lea, VP Group Account Director – Foodservice. After four years of being a remote employee, here's her take: "I've found the best approach to being productive, feeling like you are part of the team and avoiding burnout is to pretend like you're still in an office environment."
With employees located in Illinois, Missouri and Minnesota, our team has made great use of the technology available today to make remote working an option for some of our employees year-round. With tools like Slack, Basecamp, Dropbox and GoToMeeting, creating an office environment at a distance isn't so difficult.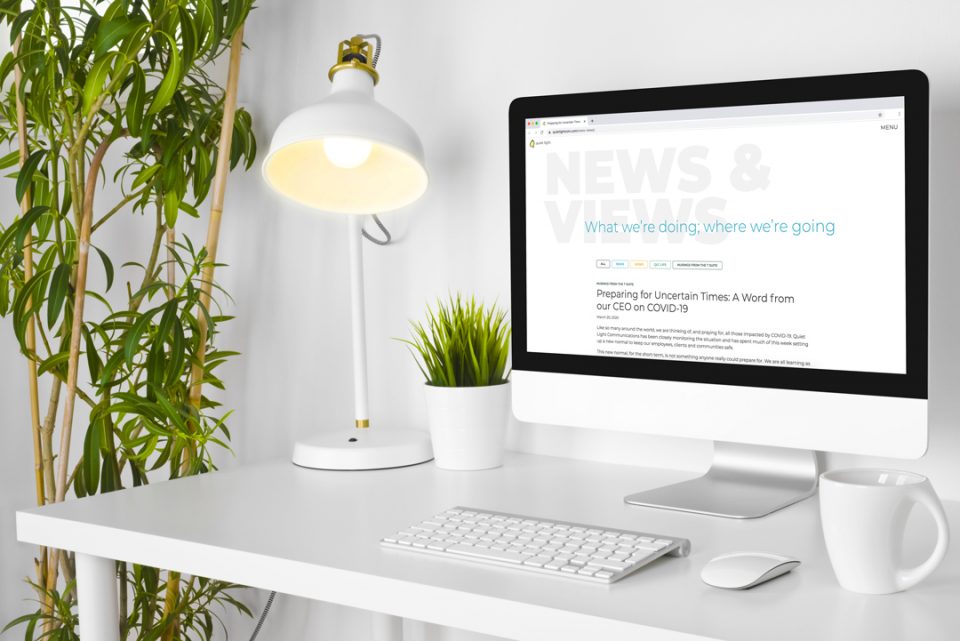 We've gathered our top 10 guiding lights for staying productive while working from home:
1. Clear expectations.
As you start working from home, make sure you and your employer have clear expectations. Are you still working 8 to 5 with an hour for lunch? Is it flexible? This may also include setting boundaries and still having a consistent "end time."
2. Keep communication open.

How can others reach you during working hours? Ask questions when instructions are unclear. Hold up your end of communication the same, if not, better, as you would if in your office. In the words of Kim Possible, "Call me, beep me, if ya wanna reach me."
3. Get ready for the day.

This includes getting dressed (even if it's just out of your PJs and into athleisure wear), shower, brush your teeth, etc. This will also help with feeling more like a workday instead of an "at home" day.

4. Create a working space.

Creating a clean and organized working space and calling it your "office" can seriously help improve productivity. This could include your dining room table, a desk, or a table in a guest room. Keep the things you need within reach, just as you would in the office.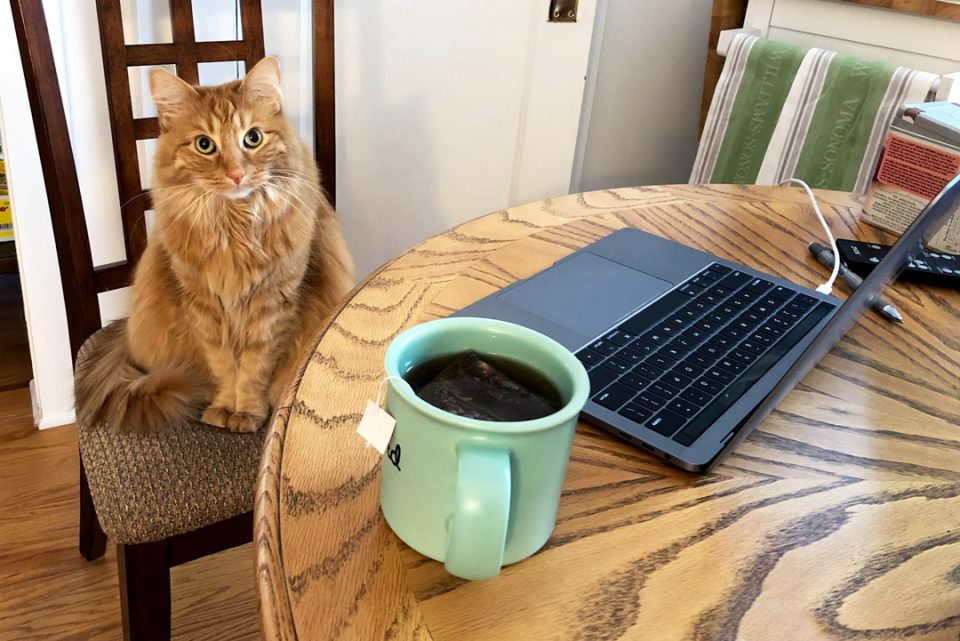 5. Take breaks.

This includes lunch breaks and short little breaks you'd usually take to run to the printer, chat up a coworker, get a snack or refill your coffee. It helps to get up and move around a bit, especially when you're eliminating a walk to and from the car or a walk for lunch or coffee. If you have a pet, be sure to show them some attention throughout the day. Not only will it improve your mood, it'll make them very happy companions.

6. Check on your coworkers.

We're a large family here at QLC and being away from the office for an unidentified amount of time can be challenging. Throw kiddos into the mix and having to be a parent, employee and teacher, all in one day can be tough. Check-in on your coworkers, maybe offer some humor or swap stories.
While in-person socialization needs to be minimized right now, many of us need interaction with others. To meet this need from a distance, consider video conferencing with your coworkers during team meetings or over the lunch hour. Digital happy hour anyone? In addition, FaceTiming or calling friends and family members in the evenings can be another way to add socialization into your day.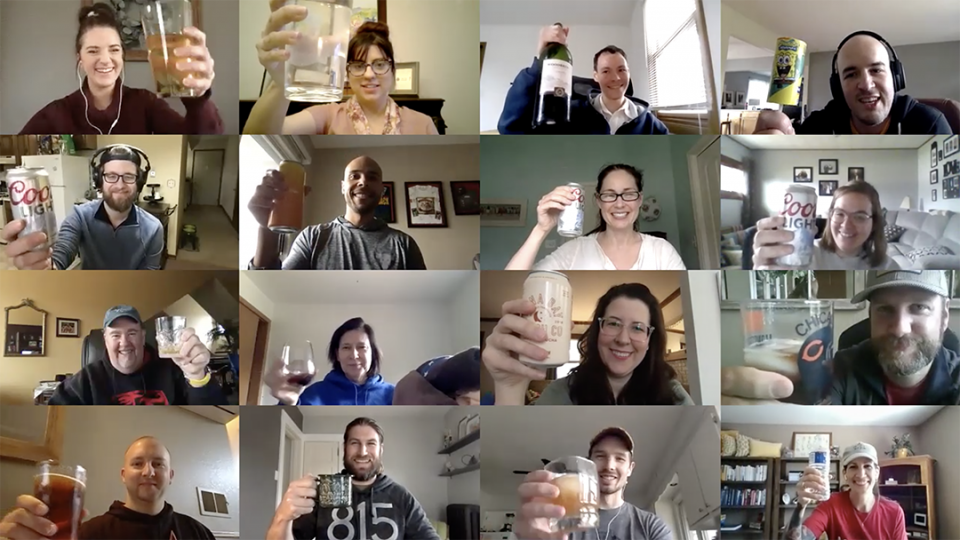 7. Keep housework to a minimum.

It's very easy for housework to derail productivity levels. If you want to switch a load of laundry or loading the dishwasher as a break, consider setting an alarm to make sure it doesn't turn into a long list of housework.

8. Follow your normal routine.

As easy as it would be to use that commute time to sleep in, continue waking up at a relatively normal time. Perhaps use that extra time to eat breakfast at home and drink coffee out of a cup instead of a to-go mug. Other ways to use that commute time: exercise, meditate, make yourself a smoothie, take your dog for a walk.

9. Change your scenery if needed.

Check-in with yourself often: is your productivity level dropping or are you feeling antsy? Try moving a table next to a bright window or set up at your dining table instead of a desk. If it's nice enough outside, take your computer on your porch or patio. Changing your backdrop can drastically improve your mood or productivity.

10. Maintaining productivity.

Need to boost productivity and none of the above is working? Try downloading a productivity app. The Flora app or Freedom.to are two we like. In fact, Freedom.to has deeply discounted its already affordable product this month with the code: March40.
Other tips we utilize that aren't included above for social distancing purposes include: swap your surroundings and increasing socialization outside of work. Switching up your surroundings, such as going to a coworking space or coffee shop can be a great jolt for a productivity boost. In the latter, socialization outside of the office is essential for those extroverted people that love the day-to-day socialization office environments bring. Scheduling meetups with friends, weeknight activities or attending networking events, can help offset the lack of face-to-face socialization with working from home.
After hours tip: The way communities are caring for each other is inspiring, but change can add stress to our daily lives. Be sure you are looking after your mental health too. Consider adding a diffuser with calming essential oils to your office, listening to classical or laidback music, setting [and keeping] boundaries and adding self-care into your nightly and morning routines. Whether it be meditation, puzzles, exercise, reading or fresh air, being our best selves at work (especially when work is at home) also means finding a way to release the added stress of the day. Need some self-care inspiration? We love this list of "Self Care-antine" ideas from MyDomaine.
Whether working from home is new to you or not, it's always nice to get a refresher and know you're not in it alone. Using these tips and treating your workday as just another day in the office will help with the continuity of your work and projects. Best of luck!