Virtual Trade Shows – Are They Worth it?
Tips for Making the Most of Trade Shows in 2020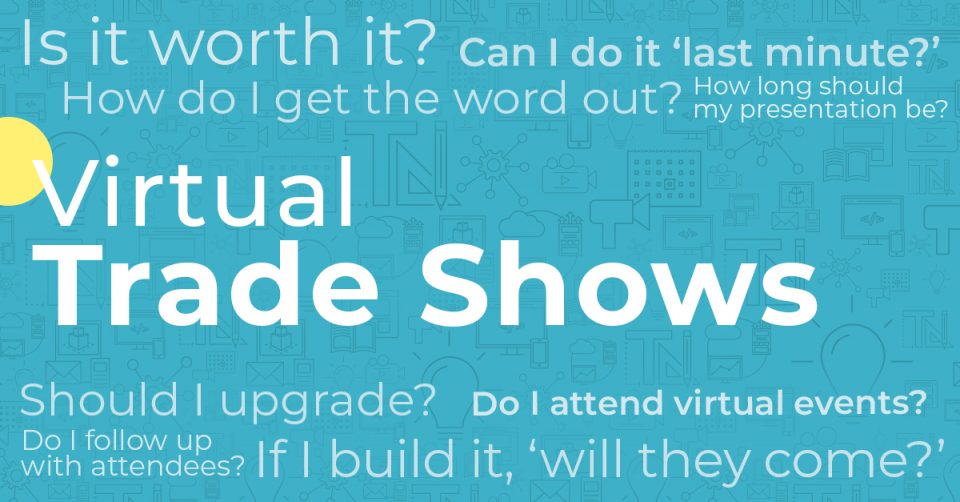 Virtual trade shows are here to stay – at least for a while. Until it feels safe to travel and gather in large groups again, the online experience will be standard practice for the remainder of 2020. These virtual platforms are new to nearly everyone – attendees and exhibitors alike – so there has been a bit of a learning curve on how to make the most of the virtual tradeshow experience.
Watch our webinar on how to convert leads to sales in your next virtual trade show.
I recently had the opportunity to participate in a virtual show as an exhibitor and attendee, so I saw the experience from both sides. And while it's a bit early to write up a best practices list, here are a few observations that may help exhibitors as they try to navigate these unfamiliar waters:
Is it worth it to exhibit?
The cost to exhibit is remarkably lower than a traditional show, so there is nothing to lose by paying your nominal fee, uploading your content and being present to support/lead your industry. By not attending, you are allowing your competitors to fill that void and deliver their message unencumbered.
Just because you build it – doesn't mean they will come
You may spend time on your virtual exhibit – uploading great content and information about your company and your products – but that's no guarantee attendees will see it. There is no "walking the aisles" in the virtual experience, so pre-show marketing is key. Maximize your trade show investment by promoting your page early and often. (I will give you some ideas in a moment).
Complete your exhibit page by the earliest possible date
Getting a head start on completing your exhibitor page allows more time for marketing both internally and externally. Additionally, once exhibitor pages are live, attendees can begin to browse virtual booths to determine who they may want to be in contact with once the show goes live.
Along with posting your page content as early as possible, make sure you are filling out your page with as much information as possible. Use all allotted space to tell attendees about your company. Take full advantage of options like virtual business cards and pdfs of sales literature to provide details. Also, think carefully about your company description and product listing. Include lots of descriptive keywords, so that when attendees use the show search function, they find your page.
Upgrade!
It's tempting to save budget by purchasing the "basic" exhibitor package but spending a few extra bucks will likely pay off. The upgraded packages often include promotional offerings, such as a "featured listing" that moves your company to the top of a category listing, or the addition of a logo, and other tactics to improve the visibility of your page.
Get the word out
Pre-show marketing is critical for the success of your virtual exhibit. One bright spot in this virtual environment is the opportunity to spend money normally allocated to travel, booth construction, etc., on creating great promotional content. Video, white papers, infographics — these are assets you can disseminate not only at the show, but in social media, sales calls, and beyond. Do whatever you can to make those connections and start those conversations!
Pre-show marketing ideas:
Write a LinkedIn post and use the show hashtag.
Put a link to the show in your email signature.
Offer an incentive; giveaways like gift cards or company swag.
Mention your page in the news section of your website.
Send email invites to your exhibitor booth to your customer and prospect lists.
Reach out to users that visited your page.
If there are exhibitors you'd like to meet, visit their pages and request a meeting.
Give your virtual audience a chance to know your company and show your support and leadership in the industry.
Attention spans are shorter than ever
Virtual trade show behavior is no different than online browsing behavior – capturing attention right away is crucial. Virtual trade show platforms are reacting to this by offering options for exhibitors to do webinars, presentations and videos. Exhibitors need to keep these shortened attention spans in mind while creating content for their booth. Your audience will appreciate a dynamic, engaging 15-minute presentation more than an overly detailed hourlong one. Always give your audience the option to reach out for more details!
Take advantage of social events
Do some research ahead of time to uncover all the ways the virtual trade show platform allows for connecting to other exhibitors and attendees. Set time aside to network at these events just as you would at a live show to make the most of your experience.
Follow up!
Track the visitors to your page and the information they viewed and reach out as soon as possible to follow up (within 2 weeks). Look for ways to add value during every interaction by providing thoughtful and interesting content. Continue the conversation and gain a better understanding of your audience by asking about their views on the event.
While virtual trade shows are very different from live events, they still provide significant opportunities to connect with customers and generate new leads for your business. Get creative while promoting your show and setting up your exhibitor booth and remember to be social and make the most of this new experience!
Need more ideas? QLC can help you make the most of your virtual trade show. Contact us here.