Our Slow-Motion Video Production Hack (A Camera You'd Never Expect to Use)
In this edition of Technically Speaking, our videographer dives deep into his unexpected go-to camera for capturing slow-motion quickly. Learn the technical ins and outs of this hack to help your next video shoot stay on budget.
More than likely anyone well versed in their given craft has a few secrets they keep under their hat that help them excel at what they do. Whether laying tile or producing videos, those years of experience in a craft lead people to develop some unorthodox or otherwise unknown methods.
At QLC, we are no different.
Like any seasoned veteran, we understand it isn't the tool, rather it's how you use the tool that makes the difference. In the spirit of sharing here is one of our secrets to getting stellar, slow-motion shots without having to bring a Phantom, and the cost and added equipment that comes with it on set.

REALLY? The Sony RX10 IV…
If you are fluent in cameras used for video production, you probably don't have the Sony RX10 IV on your radar. And rightly so, this point-and-shoot camera with a fixed lens should not be anything to write a blog about.
With an October 2017 release date, it isn't even a new camera.
Sure, at 600mm it has an impressive zoom range and can shoot UHD 4K with S-Log, but that isn't the reason we are here. The secret sauce is in its integrated DRAM chip and the increased data throughput that it delivers allowing you to get this baby up to 960 fps at 1080! At speeds like that, we can capture some amazing shots on our usual SD cards that allow our viewers to experience action in a whole new light…or speed.
You Had Me at Slow-Motion
On our shoots, the RX10 has one job, and one job only. That's to capture slow-motion action.
A lot of cameras are starting to roll out with higher frame rates, but if you do not have the Sony FS's or Blackmagic cameras in your workflow, there is nothing that is as easy to use as the RX10 – or that gets close to 960 fps (or even the more frequently used 480 fps option).
Yes, there are much faster camera options out there, but the requirements for those setups and the investment in time and money do not always work with smaller/leaner production budgets.
For the most part, we can simply grab the RX10, get the shot and then switch right back to the normal rig. This has minimal effect on the production schedule, but maximum effect on production quality. There is nothing like slowing down some flames or catching a chef performing a perfect pan toss to really put the polish on a video.
We might be guilty of glorifying the RX10 a little much, but we really do love this camera. With its minimal impact on budgets and production schedule, we bring it along on nine out of 10 shoots. For the record though, there are a few accommodations that need to be made for the RX10 to perform optimally.
Kennay Farms – Tour Video

Know Your Roll
The obvious one is lots of light.
Whenever you are shooting at a high frame rate, you will have a faster shutter and need more light in your scene. We combat this by having an extra light on standby during shoots. Then typically, we hold the light by hand to keep things rolling on set. We might also crank up the ambient light, as well, depending on the shot.
And, when you are setting the exposure for your shot, try and keep the ISO as low as possible.
There's no way around it (even with a low ISO), the image needs help from a denoising software. Although we found it manageable in our initial testing of the RX10. Probably the most important tip is to test and practice with this camera before you ever take it on set. And that goes for any new piece of gear significant to a production. No veteran ever walks onto a set with an untested piece of gear, and the RX10 is no exception. It isn't an overly complicated camera, but you will want to get comfortable with it before you take it out in the wild.
Practice Getting Those Settings Right
Once you go down the road of shooting in high framerate mode on the RX10, you'll quickly notice that you must toggle back and forth between record mode and settings mode. Sounds self-explanatory, but it takes some time to get used to.
While in record mode, there is no adjusting exposure, zoom, focus and so on. And once you hit record, you will need to wait for the camera to process your shot before you can review the clip or move on because the camera is locked up during this stage; the only option to cancel is to delete the clip.
So, take your time in the settings mode, and get your settings right. Practice any moves before you switch over to record mode and start rolling. This process is where the RX10 can slow things down if you are not careful. Practicing for a shot and getting familiar with the process is essential to using the RX10 efficiently.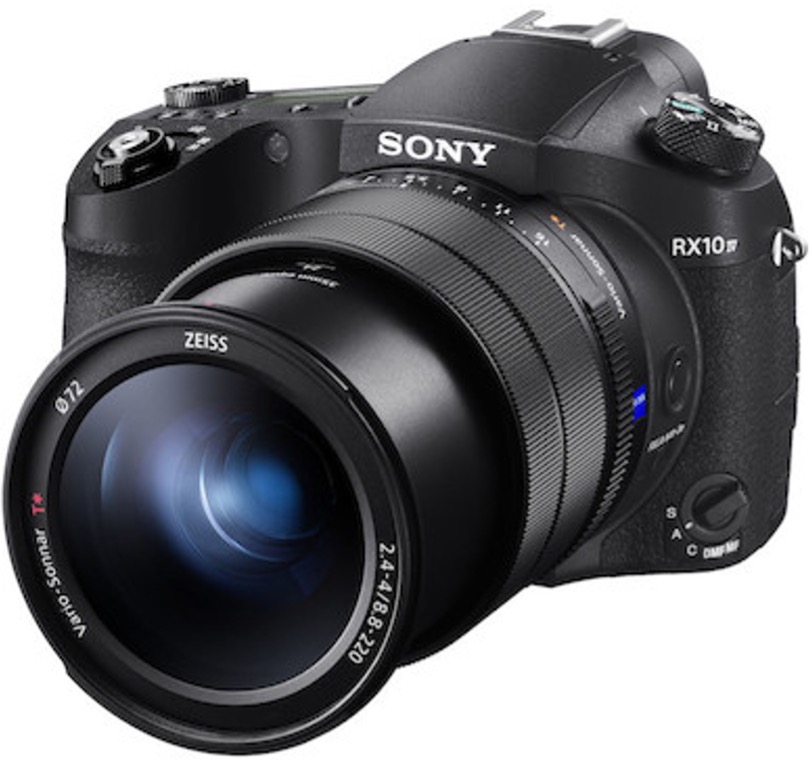 I'd Love to Try it
Now if all this still has you nodding your head, yet the idea of buying the Sony RX10 for slow-motion shots only seems excessive, especially since time isn't on the RX10's side.
The RX10 is a situational camera. And since cameras are evolving so rapidly, and a better option is on the horizon. That is why we lean on our friends at Lensrentals and keep the RX10 on our "rent only" gear list. Lensrentals does such an excellent job providing us with gear – typically it arrives a day early – which is plenty of time to practice some fun slow-motion shots, and make great use of old pumpkins! (But that's for another blog.)
If your next shoot has some opportunities for cranking up the framerate past the usual 120 fps, then rent the RX10 and make plans to shoot with it the day before. That way you not only get yourself familiar with switching back and forth between modes, but you can make sure your denoiser does your clips justice.
Not to mention, slow-motion shots are just plain fun to shoot.
Quick Hits:
The Sony RX10 can shoot 960 fps but looks much better at 480fps.
Very budget-friendly and easy on the production schedule…if you practice ahead of time.
Fire up that denoiser plugin because you will need it.
Go with the rent option on this one because of its situational-only use.