Designing the First Lady's Commemorative Egg: Q & A with Quentin "Q" Oliver
For the past 40 years, it's been an Easter tradition for America's egg farmers and the American Egg Board to present the First Lady's Commemorative Egg at the White House Easter Egg Roll. This year, our very own Quentin Oliver was selected to design the First Lady's Commemorative Egg. Learn more about the design process from Q himself.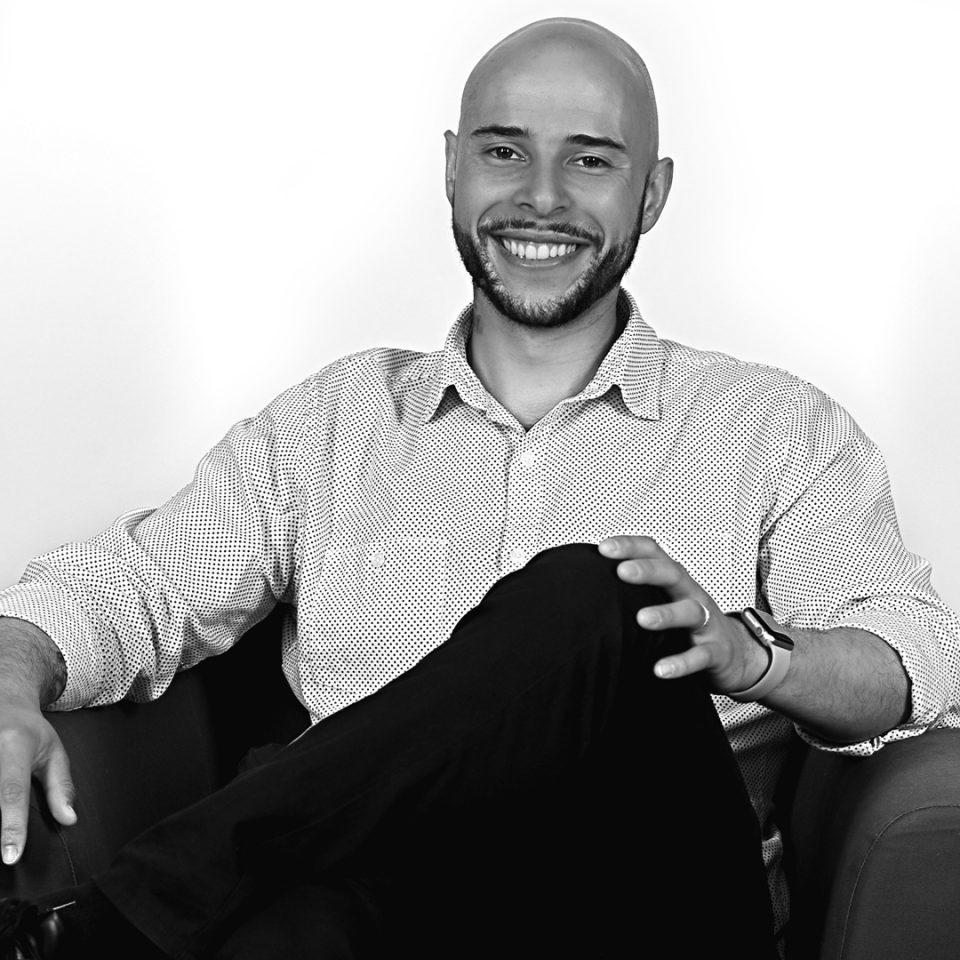 Q: How did you approach designing the First Lady's Commemorative Egg?
A: The approach was very similar to most client work; I did a lot of research to make sure what I was delivering was meaningful. I didn't want to just create something that was visually pleasing, I wanted the message to connect. That was important to me.
I felt like the stakes for this were a lot higher. Because it's pretty incredible to be a part of something like this. There's a very small group of designers that have been a part of designing the Commemorative Eggs. So, it was a bit intimidating.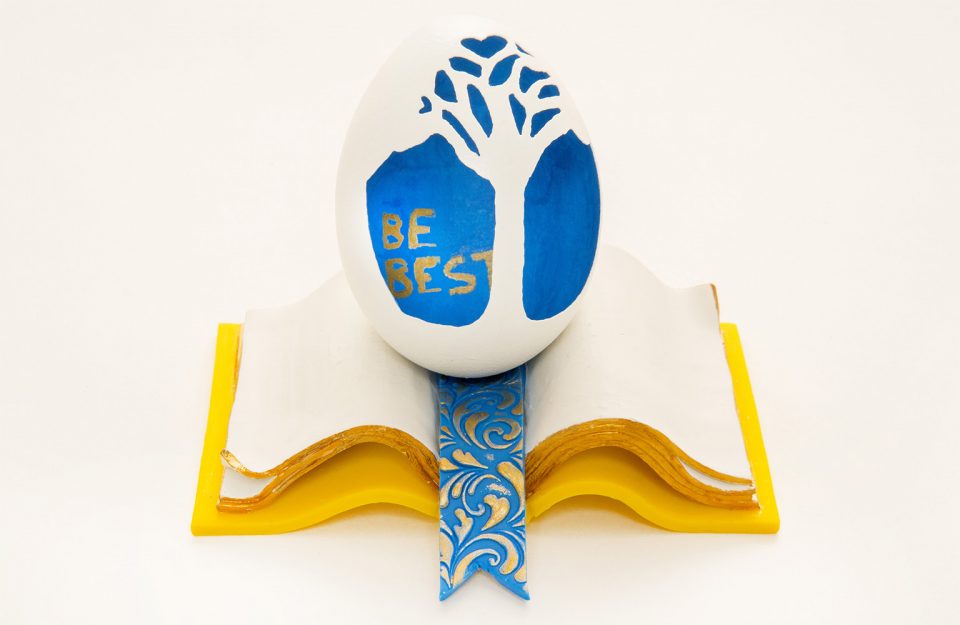 Q: What kind of information were you given to run with, and how did you layer in your own research with that?
A: There were some parameters that we needed to work within, but there was a lot of room for creativity. The American Egg Board provided some inspiring artwork that came from the children of American egg farmers. I was able to look through the children's artwork and draw inspiration from it. That was where I pulled a lot of the visual design from.
The artwork that I really resonated with were the ones derived from the First Lady's "Be Best" initiative. In the design, the pedestal of the book was all rooted in the children and starting with them, so that's where I drew the main message from.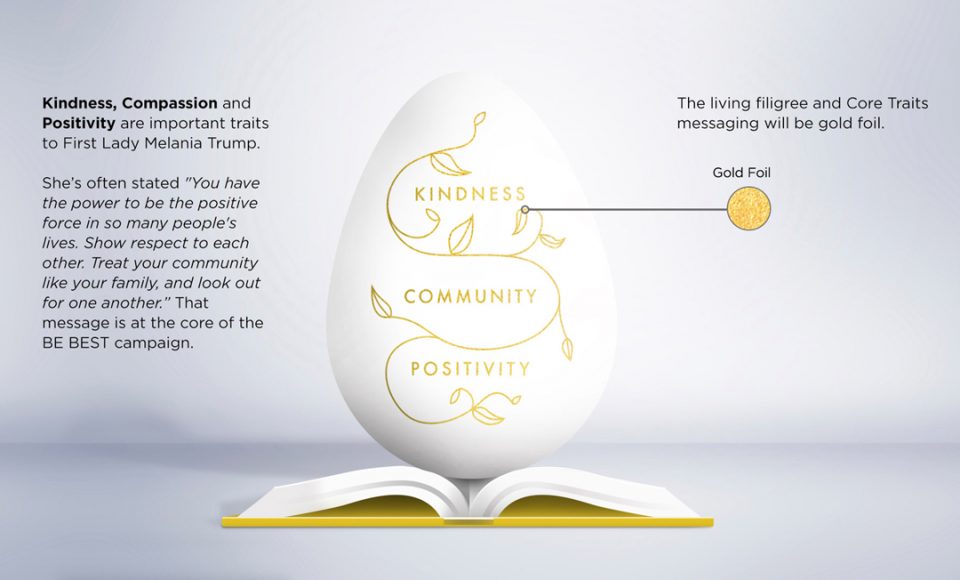 Q: That's awesome, I remember you talking in one of your TV interviews about some of the research you did on the First Lady's personal style and aesthetic, could you tell us more about that?
A: I wanted to find out aesthetically what First Lady Melania Trump is like, what's she into; and during my research, I learned that she's into minimalist design, less is more and clean lines. That connected with me as a designer, that is my style of design – more minimal. I would call it Scandinavian or Swiss-inspired. It's pretty minimal, and I'm a less is more type of guy, so I wanted the egg to be elegant and minimal and let the subtle design element speak for itself.
Q: The minimalistic approach is a fairly different approach from past eggs, but if you look at what the First Lady has done for Christmas decorations and things like that it totally makes sense that that is her aesthetic, so that's neat that you found that out because I feel like it's kind of a divergent path from past Commemorative Eggs. Did taking a minimalistic design approach feel like a risk to you?
A: Yeah, it did. I felt like they were either going to love it, or they were going to hate it because it was not as elaborate as some of the past Commemorative Eggs. I did research the past eggs and some of them are very intricate, so I knew this was either going to connect, and they were going to love it, or they were going to totally hate it, because it's so different.
But that's something that I am proud of. Minimalistic design is the type of design I do, and I wanted to run with it. I wanted to do what I thought was going to be the best – I didn't want to do an egg that was overly designed just for the sake of being overly designed, I wanted the message to connect.
Q: What was it like working with an egg artist? Most of what we do as an agency is a 2D ad or brochure, it's not typically intricate 3D designs with special material. What was that experience like working with those highly specialized artists?
A: It's really cool! I've never worked in 3D in that way. As I was designing the egg, I had to sketch it several times to see what it might look like from all angles. I had to make my best guess as to – is this going to fall apart while he's carving it? I had to make those decisions without actually having the artist in the room with me, watching what I'm doing.
The way I approached this one is that I am going to shoot for the moon and include everything I want in it, and then we can walk it back, once he starts looking at it and telling me what's not going to work. And that's how it happened too. We started out with the design, and we ended up having to simplify the carving a little bit, but it's actually pretty true to the actual sketch, so I was happy about that.
I was personally connected to this project. I think that might be one of the key differentiators between this and something I've done for other clients. I really got personally invested in this, and the original design meant a lot to me. I am stoked that we were able to get an egg into the White House.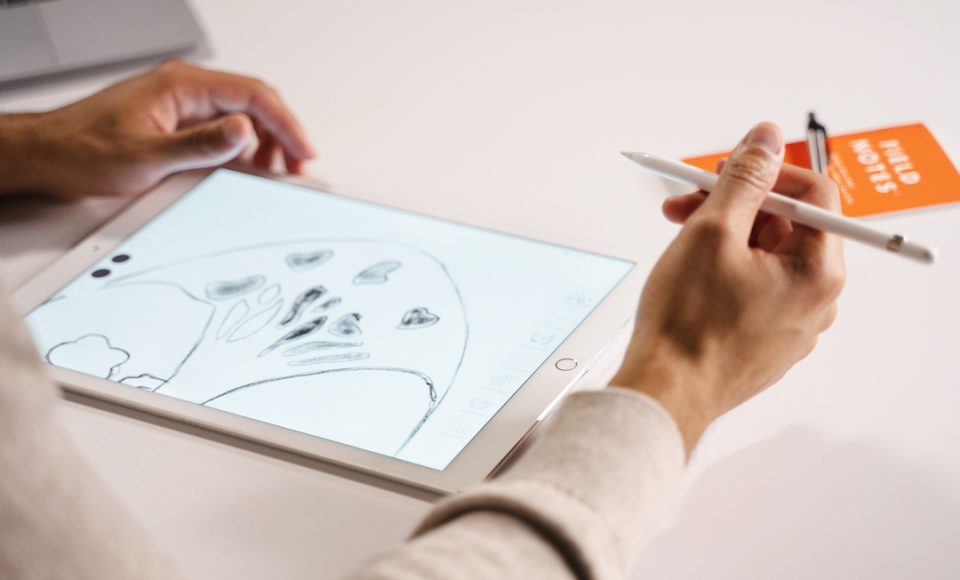 Q: You were talking about being personally invested, and I know that there is a lot of symbolism that falls into the egg, especially tied to First Lady Melania Trump's "Be Best" campaign, and I'm sure as a father, interweaving those positive messages probably means a lot to you.
A: Yeah, it does. There's a schoolteacher that lives near me who said she loved that I connected it to the "Be Best" initiative, and it was important to her as a schoolteacher. She's always looking for literature she can show the kids in class that connect this message. She thought that was wonderful. It is important to start with the kids. A lot of times, as adults we're stuck in our ways, but when we start with kids – instilling good values – that's when change happens. I think this message is really cool – it means a lot to me, so that's how it personally connected to me.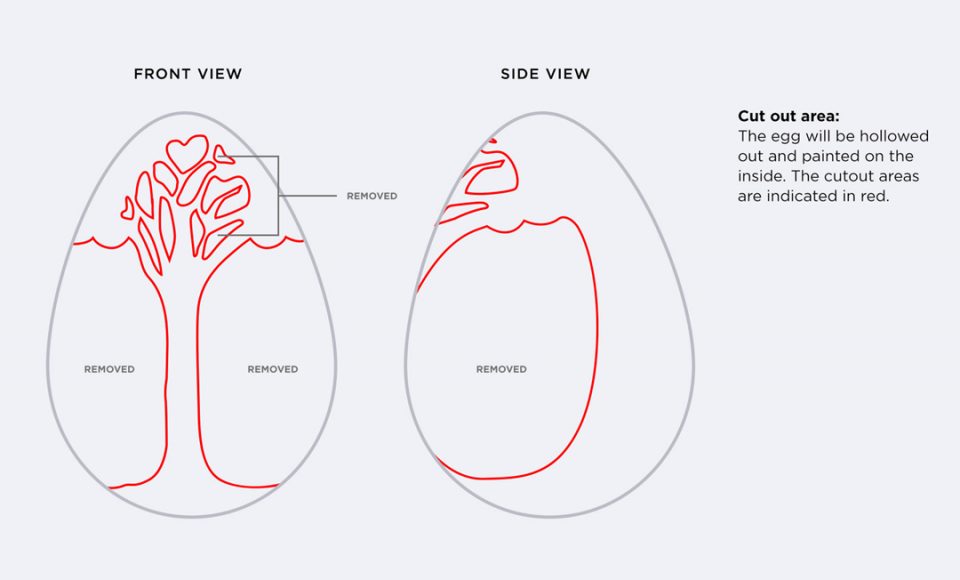 Q: To go down that path of symbolism and forgive the bad pun – but were there any sort of Easter eggs or things hidden within the design that were extra special to you?
A: In the tree branches, branching out – there are three hearts hidden in there. The three hearts are specific, because they're the three pillars of First Lady Melania Trump's "Be Best" initiative. So those are hidden within the tree, if you happen to find them – cool! I thought that would be something extra and fun.
Q: What did your kids think about you getting all this attention and being on the news?
A: They really thought it was pretty cool. They were really impressed when they found out I was going to work on this project.
They saw a couple of the news pieces, and they saw First Lady Melania Trump tweeted it out – they were pretty impressed! I think that means a lot to them, because a lot of times they don't really understand fully what I do. They understand I work in design, and they know I sit and make pictures. But I think having an egg at the White House was pretty cool to them because they were like – wow dad's doing something pretty big!
Q: That's awesome – what was it like seeing the egg in person?
A: Seeing it in person? That was cool! It's one thing to look at my renders and imagine it. But then I got to see it in person and the culmination of all the work and time put into it was pretty cool to see. It's a strange feeling, very different for me because I don't normally see and sit with the end product like that. And I'm looking at something that's going to sit in the White House. So, I was pretty impressed!
Q: What about all the press and interviews that followed? I'm guessing you don't typically get TV interview calls after every project?
A: That was definitely surreal. I was pretty proud, and it was definitely a bit intimidating. But it was something I was proud to do, because I was happy to talk about it and explain it. It's a very proud moment for me.
Q: So, part of what makes this an intense, high-stakes feeling is because it's historic. It's something that's going to always be in the archives as well. So, what would you say that you would hope history remembers about this year's egg?
A: Wow that's a good question. I would hope that they take the message from the egg – that's the most important thing about this egg. Design is subjective, not everyone is going to love the design, some people prefer different design styles. But if they could take the messaging from the egg and remember that – that's the most significant part of this year's egg, the core message.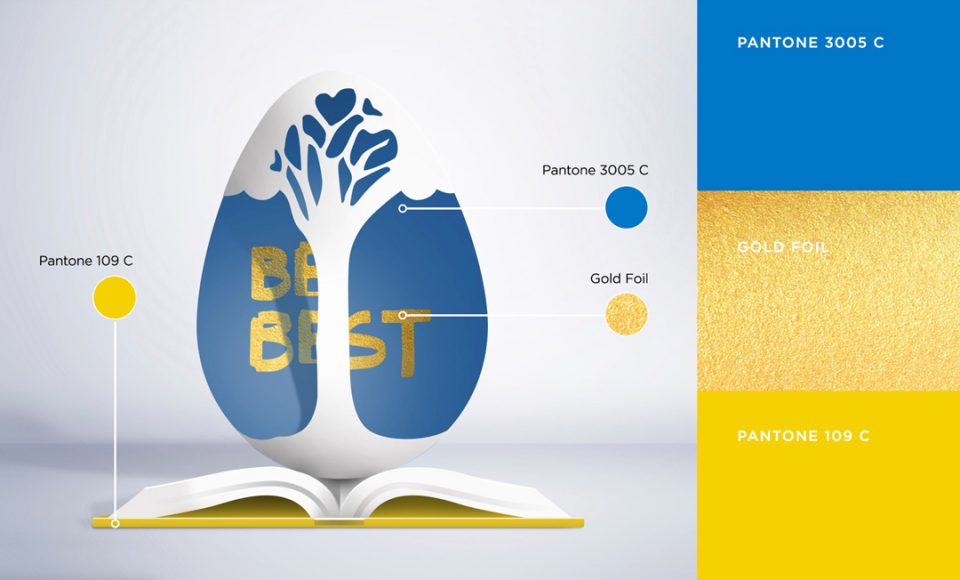 Q: If you had to summarize the message of the egg and the "Be Best" campaign and those symbols, how would you in your own words summarize that up?
A: I would say the theme of this egg – it's about spreading positivity. Letting positivity branch out and spread while planting the seed. Starting with children and letting their positivity branch and spread out.
Each year, the AEB presents the First Lady's Commemorative Egg as part of the annual Easter festivities held at the White House, in conjunction with the annual White House Easter Egg Roll. Q was scheduled to be at the White House with AEB representatives for this year's presentation. However, due to the COVID-19 outbreak, the First Lady's Commemorative Egg was unveiled virtually at https://www.incredibleegg.org/commemorative.