To Market or Not to Market: The question we (marketers) are all asking
Because of the COVID-19 global crisis, every person and industry has been affected in one way or another. Our daily routines have been impacted, and we've adapted and adjusted accordingly. As players in the food ingredients industry, we have seen changes in foodservice and logistics demands, work locations, new social distancing protocols and travel restrictions. While many in the industry are struggling with this demand shift/upheaval, many companies are able to move forward – after all, people will always need to eat.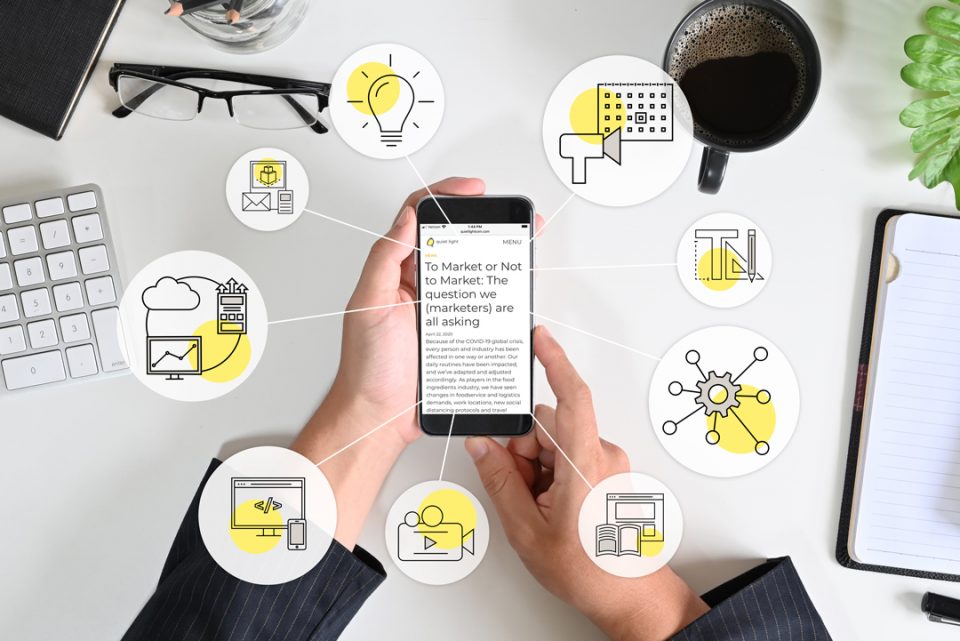 While food manufacturing, sourcing and logistics are the focus in most food organizations during this time, where does that leave marketing? How do we support our company's business strategy with so much in flux?
Crisis Communications – Check.
By now, as a good marketer, you have reached out to your customers through email, website, social media, news releases and (possibly) advertising. Your sales team has scripted talking points in hand and has communicated to their customers through personalized phone calls. Your aligned messaging addressed how your company is managing through this crisis, with an emphasis on the safety and protection of your employees; and you have reassured your customers that work is continuing with modified, but stable processes. Finally, as a diligent marketer, your internal communications machine is up and roaring, keeping everyone on the same page and on message as events change and evolve. You may even have a timeline in place, making sure you have applied drip marketing strategies to keep your customers informed and have adapted your communications to include compassion and empathy. Great job.
For your information: Here's an example of an exceptional crisis response from Marriott International.

What now?
This is an unprecedented crisis. We don't know how long we will all be under social distancing protocols or if we will ever go all the way back to normal. In order for your business to survive (and keep your workforce employed), your business has to continue to grow and evolve; the trajectory must continue forward, finding new and creative ways of meeting the rapidly changing needs of our customers and of the consumer at the retail level. Your instinct right now may be to put all marketing plans on hold, including product and service launches, to allow resources to focus on logistics and production issues. In some rare instances, you may be right. However, it is most likely prudent, and even necessary, to continue on with business as usual, promoting your products and services – as long as you are mindful of a few important factors.
Context is key
While we have all passed the initial phase of shock that has swept through our collective lives, via COVID-19, and moved slowly into acceptance of our situation, and the advent of new realities and new opportunities, marketers still need to be mindful of the environment we are now in. As Asher Rumack puts it in his piece 5 Ways to Do Smart & Responsible Marketing During COVID: "In everything we do as brands, context matters." Communicate in a manner that fits the seriousness of the time. You do not want to appear to be profiteering in any way from the misfortunes of others. While life for everyone needs to go on, make sure you are pressing forward through the lens of the crisis in everything you do. Remaining sincere in your communications with a focus on empathy and the greater social good, while avoiding exploitation of the circumstance will keep your marketing tactics moving forward and respectful.
Focus on the need
Every product launch, marketing tactic or news release should address a need that includes a solution for the pain points your customers are experiencing now. If you can't align your product or service with a current need, delay the activity. We are all in this together, and we all need ideas and solutions for our 'right now' challenges.
Your communications should therefore focus all attention on a solution (if they haven't already). This will most likely force you to reexamine your product's value proposition and go-to-market messaging, which you may have created in your early, pre-COVID-19 strategy sessions. For example, if your product or service helps ease logistics or handling, or increases production efficiencies, these attributes should take the lead in your messaging. Or in Lamb Weston's case, they are supporting their customers in the restaurant industry's need for transitioning to takeout and delivery models on Instagram.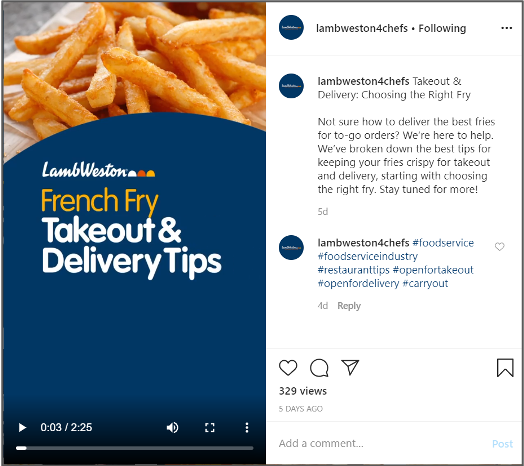 Keeping your eye on the needs of today will make your products and services not only relevant but welcome.
Empathy first
The tone of your communications should be serious and acknowledge the difficulty of the crisis, but also provide some continuity and normalcy. This is also where you need to be sure you are not appearing to profit from the crisis. If your copy doesn't pass the gut check, reexamine your tone and focus back on how the new product or service helps in this time of need. Your call-to-action will most likely need to adjust the most. Keep the CTA focused on providing more information or the offer of assistance, not a sale.
Here's an example from Briess Malt & Ingredients Co. where they are showing support for the healthcare workers in their community.
Choose the right channel
While trade shows have been canceled, postponed or moved to a virtual experience, there are other modes of communication that will prove to be effective now. Your customers may have more/differently structured time while working from home and may, therefore, be able to interact with and absorb more information than usual.
Unilever Food Solutions is showing its support for the restaurant industry by sponsoring a webinar designed to support the mental health of chefs, using a relevant channel and showing empathy for their customers.
While we could sing the praises of integrated communications strategies all day long, skew your communications strategy to fit the format most useful to users now. White papers, webinars and other long-form communications may be having a moment. In particular, a webinar is a great means to offer much-needed industry interaction.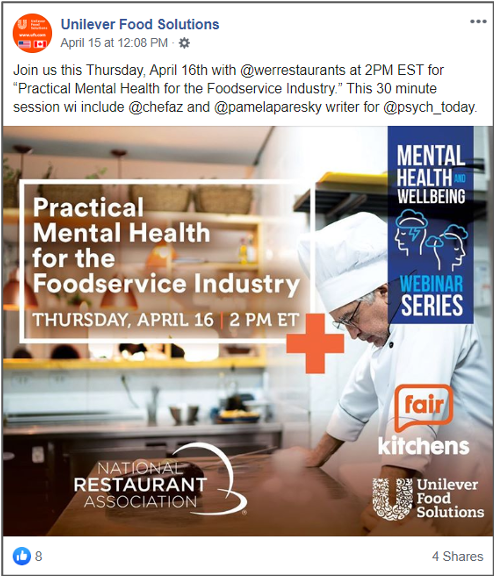 If you are not active in social media, we need to talk. In the meantime, chances are your customers are engaging with their social media feeds more than usual these days. Don't forget to include content for these channels into your go-to-market plans (again, focus on the need).
By utilizing both long-form and social tactics, you are interacting with your customers in very different ways and providing very different experiences – the entire basis of any good integrated campaign, but one that aligns with the altered universe we are operating in.

This global crisis has us all rattled and questioning if and how we continue supporting our company's strategic objectives. More than ever, as marketers, we will be asked to think outside of the box and find new and progressive ways to communicate and move our businesses forward. This global disruption will be with us for some time; as long as we remain cognizant of our surroundings, moving forward with marketing communications plans is not only acceptable and needed, but a welcome evolution to our new normal.