How Empowering Employees on LinkedIn Can Drive New Business
When clients come to us wanting to jump into the social media space, they often first bring up LinkedIn. It makes sense. For B2B companies, professionalism is key, and the most professional platform currently is LinkedIn.
However, creating a LinkedIn business page is only the start of building valuable relationships with potential customers on social media. An often-overlooked asset for brands is their employees, and on LinkedIn, employee engagement can transform your results.
Today, let's shine a light on employee advocacy and LinkedIn.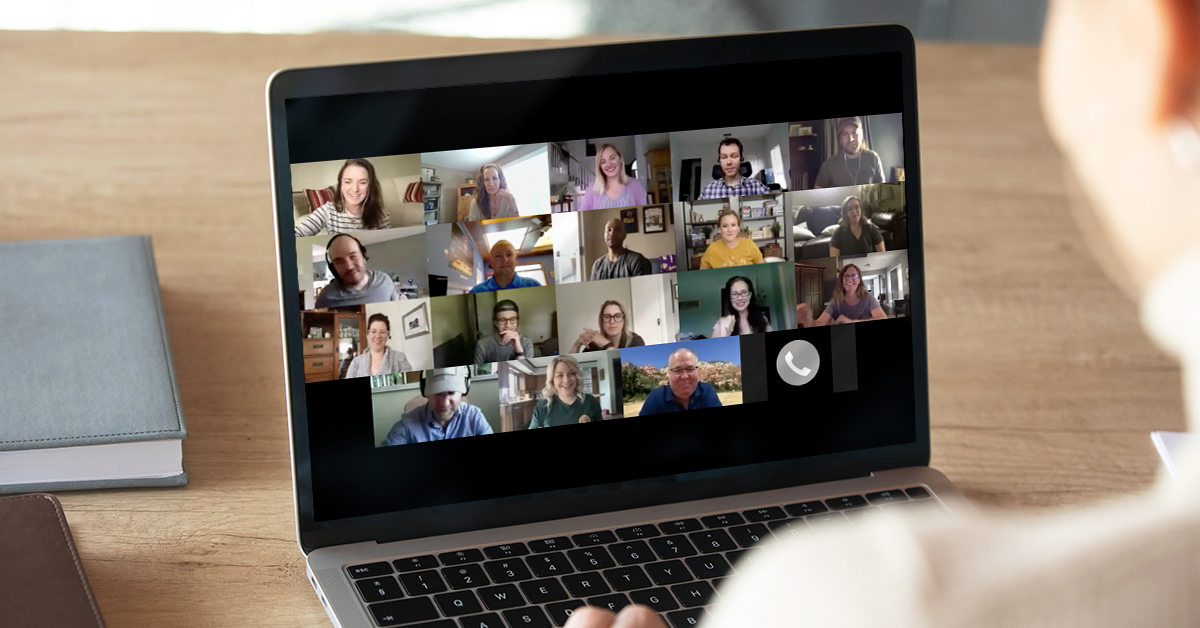 Why does employee advocacy matter?
Hootesuite utilizes the following definition: "Employee advocacy is the promotion of an organization by its workforce."
Simply put, your social media audience is limited. If you can enlist your employees to talk about you to their followers, your reach grows exponentially. Employee advocacy programs seek to engage employees in a meaningful way, so that they authentically share about your organization.
Beyond reach, more people report higher trust in what an employee (54%) has to say than a CEO (47%). And 68% trust an internal expert. When individuals share your company's expertise, it carries more weight and means more to potential employees, clients or partners.
On LinkedIn, your business page directly connects users to your employees. Many job seekers or decision makers utilize this tool to evaluate a company before accepting a job or signing that contract. If your employees do not have up-to-date LinkedIn profiles that showcase their expertise, you may miss opportunities to seal the deal with potential customers.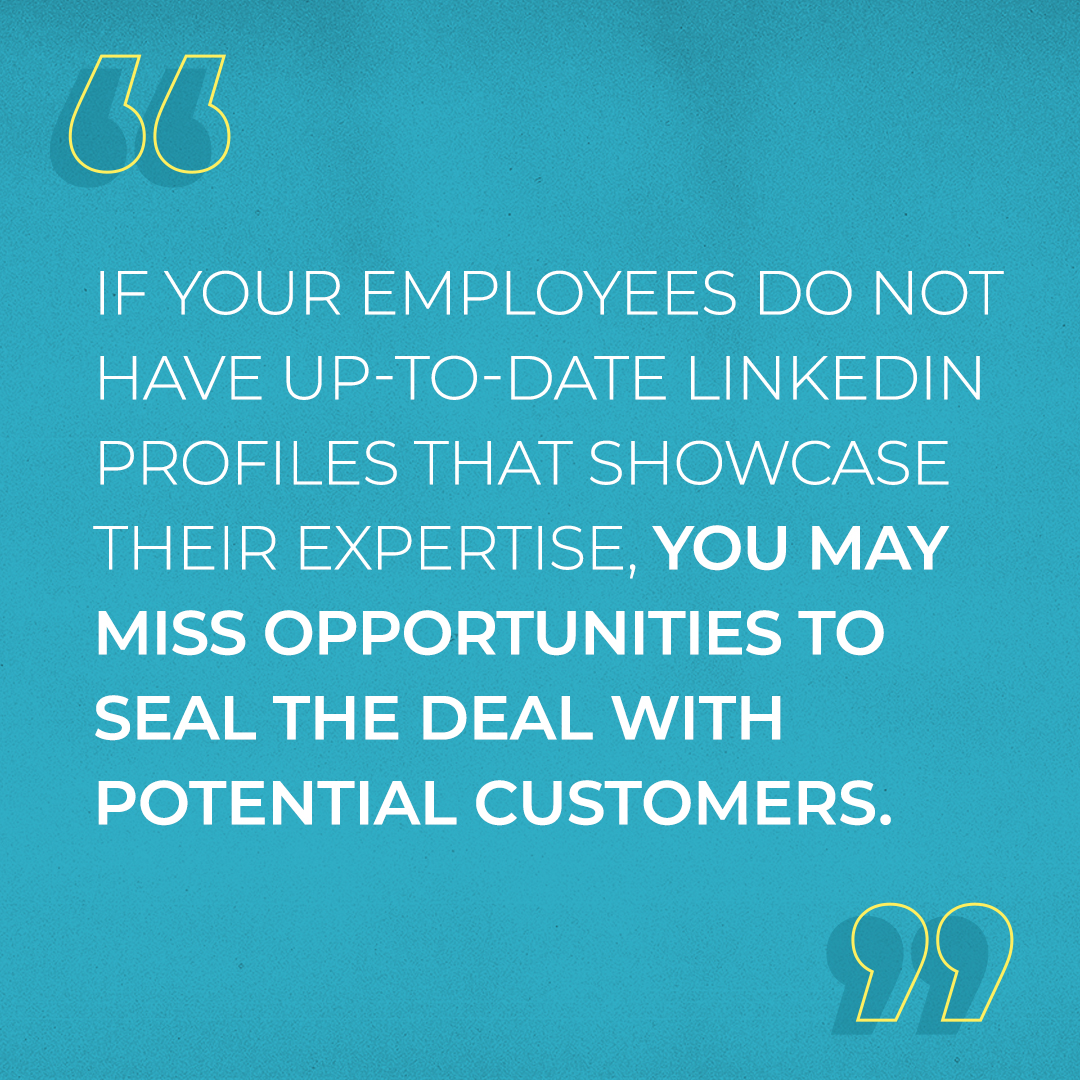 How to engage employees on LinkedIn
Encouraging employees to engage with your social media channels can be difficult as you want it to be authentic and not forced.
To launch an employee advocacy program, first host a virtual Lunch N' Learn and share best practices on LinkedIn with your employees. Oftentimes, employees do not think about keeping their LinkedIn up to date, unless they are looking for new opportunities—akin to a digital resume. However, you should encourage your employees to keep their profile up to date, especially when comfortable in their position and happy in your company.
Some best practices to share with your employees at this seminar include:

Choose the right profile picture. LinkedIn recommends: "Make sure the picture is recent and looks like you, make sure your face takes up around 60% of it (long-distance shots don't stand out), wear what you would like to wear to work, and smile with your eyes!"


Utilize your header photo to show what you are passionate about in your career. LinkedIn's official career expert Nicole Williams believes strongly in the power of a good cover photo. "This image should always connect back to who you are as a professional, which isn't always the case for other channels," Williams said. For example, someone who works within the food industry might consider sharing a photo with culinary sensibilities.


Tell a story with your summary. Many LinkedIn users skip this step when setting up their profile or keep it dry and in third person. The best LinkedIn summaries take viewers on a journey, using active verbs and speaking in first person. Think about the summary like your cover letter to encourage viewers to scroll down for your digital resume. Recount the moment you decided to pursue this career, one of your proudest accomplishments or something about your approach to your work that is specifically yours.


Feature your work visually. Below your summary, there is an opportunity to prominently pin work you are proud of. This could be a blog post you wrote, a webinar you led at a virtual trade show or a video from a campaign you managed. Also, within each position, you can add media to showcase work you did for that company, bringing your visual resume to the next level.


Request and give relevant recommendations. Do not be afraid to request recommendations from people you have worked with in the past. LinkedIn makes this simple with a click of a button on the top right corner of your recommendations section. When someone leaves a recommendation, you have the option to accept or decline. You also can edit which reviews are most prominent on your page to highlight your most relevant experience. Also, if you had a good experience working with an individual or company, leaving them a thoughtful recommendation is a great way to boost your relationship. Writer's block? Here are some great thought starters for recommendations.


Contribute to the LinkedIn community. Whether you simply share relevant articles you are reading in your industry or you take the time to write a long-form piece within the platform, actively adding to the conversation shows you are engaged in your industry.


Become an employee advocate. Be sure to leave your employees with a call to action to engage with your company page and become an employee advocate. Share statistics that showcase its value to them, such as: "86% of employee advocates say that sharing content for their business has had a positive effect on their own career."


After the Lunch N' Learn, encourage participation with positive affirmation. For example, select one employee profile each month that is applying one of these tips exceedingly well. Highlight what they are doing right and include their profile with a LinkedIn tip in your internal newsletter. This is a great way to keep LinkedIn top of mind for your employees and reward them for following up on these tips.
Another way to keep your tips top of mind long after the seminar is to bring your company's content to your employees. If all the relevant content you are creating on social media comes to your employees' inboxes, they will be more likely to share it on their own channels during work. Paragraph
Finally, engage your employees in content creation. Invite your subject matter experts to contribute to your company's blog. If they are a part of the process, they will be more likely to share the content across their social media channels. Remind them that company blog posts are perfect fodder for long-form posts on LinkedIn that can then be pinned to their profiles. This shows off your company's expertise in your industry in a more expansive way than posts that come anonymously from the company.
Now, when you are pitching an SKU to a new chain account or connecting with potential customers at trade shows, you can be confident they are getting a full picture of what your company has to offer by reviewing your LinkedIn profile and your employees' LinkedIn profiles.