Navigating Today's B2B Food Media Landscape
It wasn't that long ago when the majority of media buying was print advertising in trade publications. Then it expanded to digital and print advertising, but for the most part it was again confined to the trade publication landscape. Today, we have the added dimensions of social media advertising, search advertising and programmatic advertising with drip campaigns and retargeting. The dizzying array of options is, admittedly, somewhat intimidating. The key to making sense of it all is akin to the old joke that poses the question, "how do you eat an elephant?" The answer is – one bite at a time.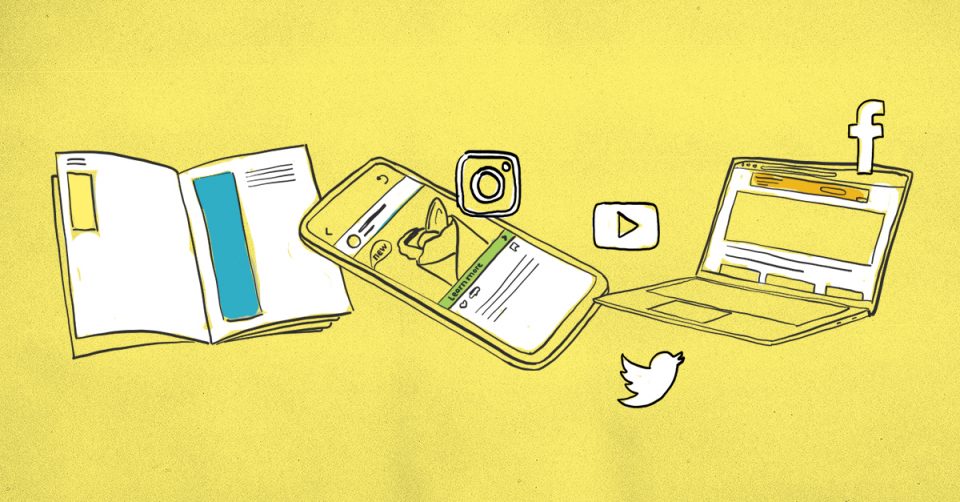 Typically, media is divided into three buckets – owned, paid and earned.
Owned media – any messaging or marketing content controlled by a company or on platforms the company literally owns. This includes, but is not limited to websites, collateral, videos, social media, blogs and podcasts.
Paid media – advertising, including print and digital publications, social media and programmatic. Essentially, any media on platforms that are paid for.
Earned media – any coverage of your company in the news media, also commonly referred to as public relations. Your company "earned" the right to be there, you didn't pay for it.
While we believe to have a successful marketing communications strategy all three of these media types need to be included, this blog post is only going to dive deeper into paid media.
The first bite: A shifting trade publication landscape
Print magazines in the food manufacturing sector took a significant hit in 2020, when publisher BNP Media announced its food titles would become digital-only as of July. All of these titles folded their print editions.
Prepared Foods
Candy Industry
Beverage Industry
National Provisioner
Snack Food & Wholesale Bakery
Cannabis Products
Dairy Foods
Food Safety Strategies
Food Engineering
Refrigerated & Frozen Foods
A similar loss was seen among the foodservice print trade magazines. Some titles announced a reduction in annual print issues others discontinued print altogether. These titles saw their final regular print editions in 2020:
Foodservice Director
Food Management
Restaurant Business
Restaurant Hospitality
All was not lost in 2020 though, a few new titles announced print launches.
Food Entrepreneur (inside Food Business News as of 2020)
Commercial Baking (inaugural issue Feb. 2021 – with 132-page folio!)
Dairy Processing (launches in April 2021)
As mentioned, the COVID pandemic accelerated the demise of some print magazines. Yet, according to two different third-party research studies, industry-related media consumption has increased since the onset of the pandemic. In fact, according to a Cypress Research study conducted in July of last year, 58% of respondents reported their print trade media consumption had not changed during the pandemic, and 15% actually reported an increase in print consumption. And the same research found that 53% reported an increase in digital trade media consumption.
Looking at this research, the pandemic may actually be having a positive impact on trade media consumption. Working from home seems to have given at least some people more time to read and appreciate the exceptional journalists who work in the food trade space. Food trade media remains a vibrant space well worth advertising support.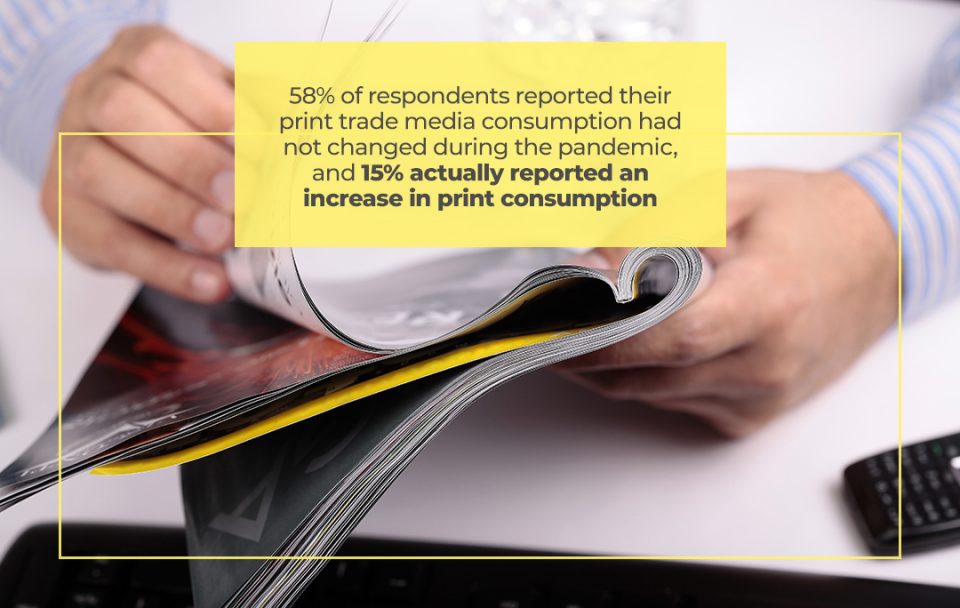 Something to chew on: Print vs. digital
As someone who enjoys print magazines, it's hard to recommend ad placements in them when you're not able to get the same metrics that are available with digital. And being able to show ROI is essential because it validates your communications efforts. Sure, people may retain what they see/read in a print magazine more than what they read online, which is better for your brand awareness. BUT and it's a big but, as a marketer, you can't easily measure the actions taken as a result of someone seeing your advertisement in print. And therein lies the issue.
I'd be remiss without noting nearly six in 10 trade magazine readers say print ads allow them more time for review without interruption than digital ads, according to Cypress Research:
Respondents, regardless of age, viewed print ads as part of a more seamless reading experience than digital.
Half of readers reported more focus, engagement and recall of print news and information content than digital.
Overall print offers a better reading experience and more opportunity for ads to be read and absorbed. And while there are some print tracking measures that publishers employ (vanity URLs for lead collection and readership studies), we just can't track print readership in the same manner as digital.
More to digest: Programmatic advertising
When you bring up the topic of programmatic advertising, another form of digital advertising, you're likely to get one of two reactions – eyes glazing over or undivided attention. I'm going for undivided attention here, so I went to our resident programmatic guru, Daniel, and asked him to explain it.

"Programmatic advertising in the broadest sense," he says, "is automating an advertising process through technology. It consists of setting up parameters to decide to whom and when your ad is shown. You define the audience through demographics/behavioral patterns/geography/etc., select time of day for serving the ad, and set a budget for placement."
Once the parameters are set then automation is used to serve the ad according to the set parameters through digital ad networks. Or as Daniel so eloquently sums it up, it's automating digital media using real-time data and technology.
Going a step further, a non-programmatic digital ad whether in a trade publication or on social media, is static. It remains in the same spot and is shown to anyone and everyone who goes there during a set time period. Programmatic ads are shown only to a selective audience – those that fit the set parameters, for example, 35- to 44-year-old, female, snack food product developers in food manufacturers with more than $50MM in sales, who have searched for seasonings within the previous 90 days.
As a marketer, the beauty of programmatic advertising is the possibility it offers. Not only can you specify an audience and locate them through automation, but you can show them ads that are customized. Campaigns can also be adjusted midstream if they aren't performing as desired.
Before you decide to abandon all of your other marketing efforts in favor of programmatic, let's talk a little about its limitations. "Because you're typically reaching your audience through non-trade media, there's less authority, less relevance being given to your messaging," says Daniel. "And while you may reach a specific audience more cost-effectively, without the relevance you may not achieve your objective of lead generation or brand awareness."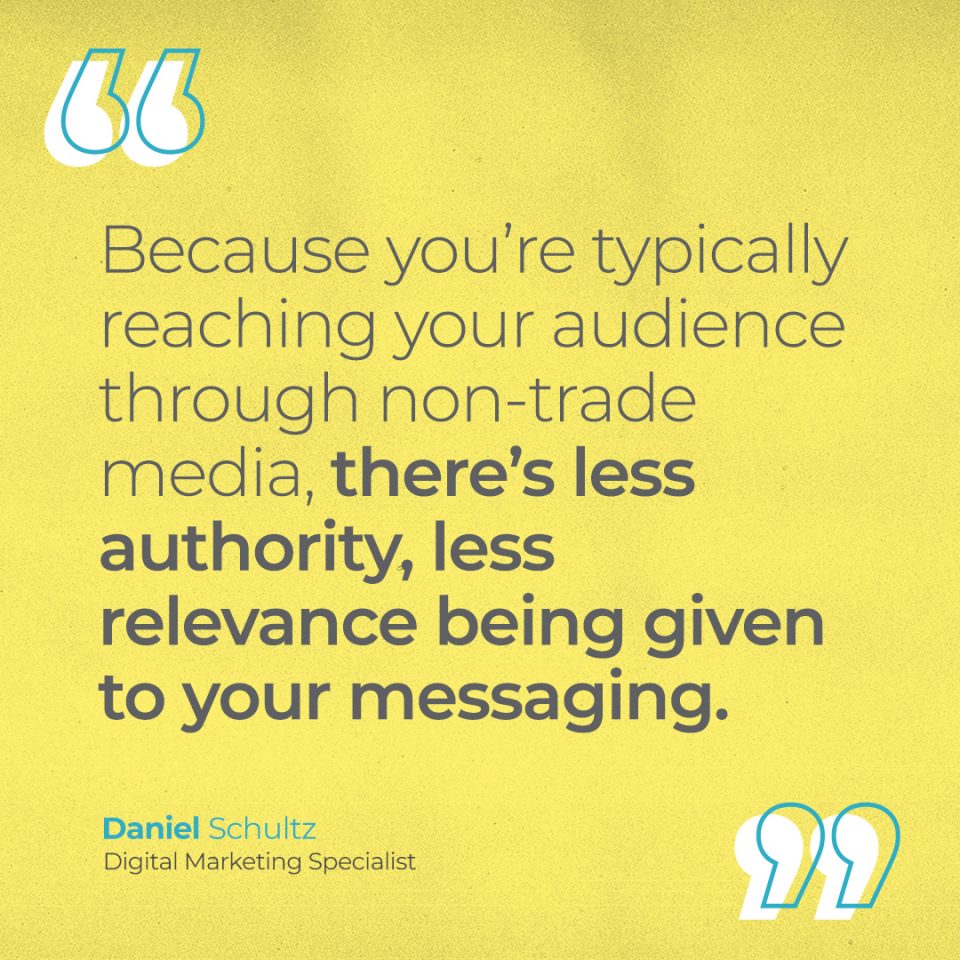 While automation is what drives programmatic advertising, it also can be one of its shortcomings in getting to an appropriate audience, especially in a B2B environment. More from Daniel, "audience acquisition still requires a human touch to refine over time, as there can be overlap between consumer audience behavior and B2B audience behavior. There may be misfires along the way where an ad is served to an unintended recipient, although different strategies can be deployed depending on a company's desired reach and risk-tolerance."
I've only scratched the surface here in talking about programmatic advertising. There's much more that could be said. I asked Daniel for a final thought on using programmatic advertising to its greatest advantage as part of a marcom plan.
"Blended strategies work the best with different touchpoints along the sales cycle. Taking a full funnel approach, using different media vehicles to drive brand awareness, lead awareness and lead generation will be most successful."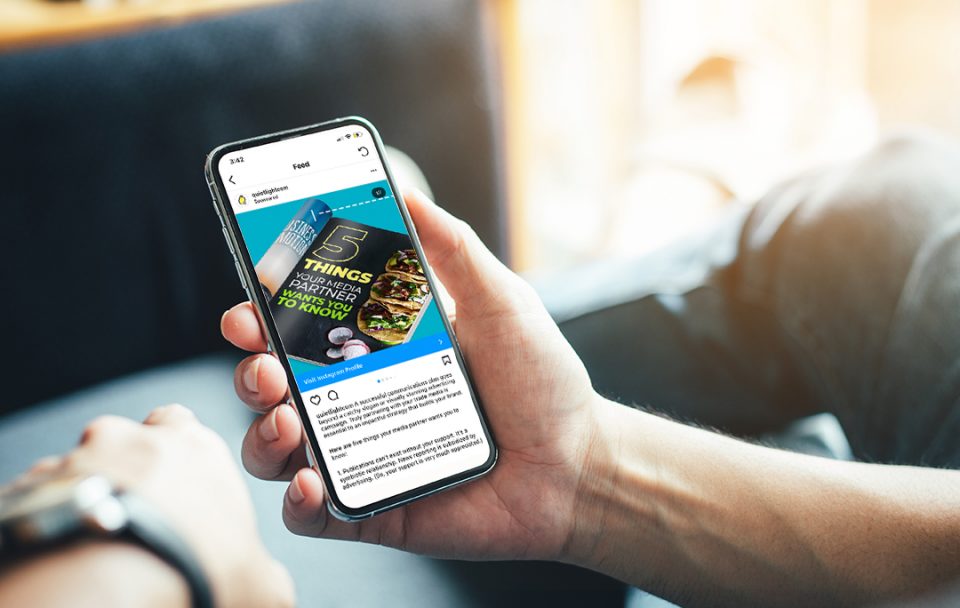 A communal nosh: Social media advertising
Like trade media and programmatic, social media advertising is another form of digital advertising. This means, you can buy space on the different social media platforms for placements in the feeds. Each platform has its own advertising program, and they vary as to how detailed you can get in targeting an audience.
Social media use is still developing in the B2B food space, somewhat more slowly on the food manufacturing side. So, an in-depth discussion of social media advertising strategy is a blog for another day and another author. Let's suffice it to say, there are opportunities, and depending on your company's social media activities, they may be something you should explore.
If you do, here are a couple of things to consider when looking at social media advertising.
Only consider advertising on social media platforms where you're active. If you don't have a Facebook account, don't advertise there. And if you have a Facebook account, but you haven't posted anything in five years, don't advertise there.
Examine the organic traffic coming to your site from your social media feeds. Identify the most effective source and invest your advertising dollars there to boost traffic rather than spending a little here and a little there.
A last bite
While this is only a broad-brush look at paid media in the B2B space, hopefully, it brings you a taste of the latest happenings. And I'll leave you with some wisdom about selecting paid media for your B2B food marcom program from our expert in B2B media buying, Nancy Harmel, who also happens to be the most analytical, and savviest negotiator, you're ever likely to encounter.
So, what's the ideal mix of paid media vehicles?
"Unfortunately, there are too many "x-factors" to give a blanket strategy on how to decide a paid media budget," says Nancy Harmel, QLC's media director. "Elements that go into that decision are communication objective(s), competitive landscape, target geography, target audience and timing."